Johanna L. Hannan, Ph.D.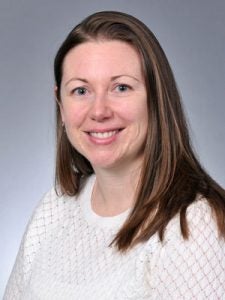 Research Interests
Our group is studying the pathophysiological mechanisms of genitourinary dysfunction in men and women to help discover new therapeutic strategies to treat and prevent sexual and urinary dysfunction. PDE5 inhibitors, such as Viagra or Cialis, have been successful at treating erectile dysfunction in men; however, they do not cure the underlying disease and treatments for female sexual dysfunction are lacking.
The vasculature supplying the genital organs, the internal pudendal arteries, undergoes pathological vascular remodeling, fibrosis and endothelial dysfunction prior to other similarly sized systemic arteries. We are characterizing the unique properties of this vascular bed in models of aging, cardiovascular disease, diabetes, obesity and radiation to find treatments that can improve both sexual dysfunction and cardiovascular disease. We are also interested in the role of neuronal dysfunction and degeneration of the pelvic ganglia and cavernous/pelvic nerves in neuropraxia, diabetic neuropathy and aging related to pelvic organ dysfunction.
Using integrative techniques, we can examine in vivo sexual and bladder function, ex vivo isolated smooth muscle reactivity, changes in molecular signaling pathways, and localization of these changes with histology. Our goals are to elucidate how the vasculature and nerves are affected in these models of disease, to prevent vascular dysfunction/neurodegeneration and promote vascular health and neuroregeneration.
Education/Employment
Assistant Professor (February 2015 – Present)
Department of Physiology, Brody School of Medicine
East Carolina University, Greenville, NC
Post-Doctoral Fellow (May 2011 – January 2015)
The James Buchanan Brady Urological Institute and Department of Urology
The Johns Hopkins University School of Medicine, Baltimore, MD
Mentors: Drs. Trinity J. Bivalacqua and Arthur L. Burnett
Post-Doctoral Fellow (January 2009 – April 2011)
Department of Physiology
Georgia Regents University, Augusta, GA
Mentor: Dr. R. Clinton Webb
Doctor of Philosophy
Department of Pharmacology and Toxicology
Queen's University, Kingston, ON, Canada 2009
Dissertation Title: "Evidence Linking the Structure and Function of the Internal Pudendal Artery to Erectile Function: Impact of Aging, Hypertension, Antihypertensive Treatments and Lifestyle Modifications"
Ph.D. Advisor: Dr. Michael A. Adams
Bachelor of Science with Honors (Life Sciences)
Queen's University, Kingston, ON, Canada 2003
Publications
Honors and Awards
Urology Care Foundation Research Scholar; 2013-2015
Outstanding Poster, Sexual Function/Dysfunction/Andrology: Basic Research, American Urological Association; 2013, 2014
Sexual Medicine Society of North America Research Award; 2012
Canadian Institutes of Health Research Postdoctoral Fellowship; 2011
Jean Francois Ginestie Prize, International Society of Sexual Medicine; 2010
Yamada Bee Farm Grant for Honeybee Research; 2009-2010