Dr. Laxmansa C. Katwa, Ph.D.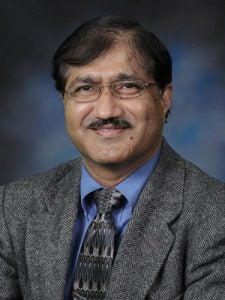 Associate Professor
Phone: 252-744-1906
Fax: 252-744-3460
E-mail: katwal@ecu.edu
Research Interests
For the last several years our lab has been focusing on elucidating the molecular signaling and cellular mechanisms of key vasoactive peptides (angiotensin II, endothelin, urotensin II and VEGF) in cardiac tissue remodeling and fibrosis. Cardiac myofibroblasts (MyoFb) are key wound healing fibroblast-like cells that appear in response to injury following myocardial infarction and possess morphologic features of both smooth muscle cells and fibroblasts. These cells express various pro-remodeling cytokines and are involved in high collagen turnover, cardiac tissue repair/remodeling, and fibrosis. They are therefore the most prudent cells types to study when examining the interstitial collagen build-up in cardiac tissue. This interstitial collagen build-up causes scarring and changes in the shape of the left ventricle, which significantly affects the efficiency of the heart and leads to cardiac dysfunction and failure.
Recently, we and others have shown that activation of PPAR-Ÿ (peroxisome proliferator-activated receptor-gamma, a nuclear receptor) signaling inhibits collagen production and reduces fibrosis, helps down-regulate the inflammatory cytokine NF-kb pathway, and induces angiogenesis via stimulating the production of VEGF and its receptors. All of these effects are beneficial to the heart and aid in its recovery following MI. Our lab is interested in elucidating the fine molecular mechanisms by which PPAR-Ÿ signaling occurs in MyoFb under such pathological conditions in the hope of expanding the potential targets designed to inhibit cardiac remodeling/fibrosis following MI.
Currently we are focusing on two aspects of PPAR-Ÿ signaling, VEGF up-regulation, and inhibition of collagen expression. First, we have found that PPAR-Ÿ causes the up-regulation of the pro-angiogenic factor VEGF and are currently working to uncover the specific signaling pathway through which this occurs. Second, we are working to uncover the role of several key pro-remodeling factors (ANGII, TGF-β, ET) and transcription factors (SMAD, STAT, and SP1) in mediating PPAR-Ÿ's inhibition of collagen expression. Additionally, we are looking to see both whether any cross-talk exists between these factors and whether they interact with the VEGF signaling pathway.
Lastly, our lab, in conjunction with the division of cardiology, is currently involved in a collaborative research study with UCLA (funded by the California Air Resources Board) looking to see if there is a change in the serum levels of cardiovascular markers in a study investigating "the cardiovascular health effects of air pollution (fine and ultrafine particles) exposure to humans during freeway travel" (March 2006-Feb 2008).
Education/Employment
Associate Professor (2004 – Present)
Physiology & Associate Professor of Cardiovascular Center
Brody School of Medicine
East Carolina University, Greenville, NC
Research focus: Cardiac Remodeling Following Myocardial Infarction
Assistant Professor (1999 – 2004)
Physiology & Associate Professor of Cardiovascular Center
Brody School of Medicine
East Carolina University, Greenville, NC
Research Associate Professor (1998 – 1999)
Biomedical Sciences, Dept. of Vet
University of Missouri, Columbia, MO
Assistant Professor (1993 – 1998)
Division of Cardiology
Department of Medicine
University of Missouri, Columbia, MO
Research Assistant Professor (1992 – 1993)
Division of Cardiology
Department of Medicine
University of Missouri, Columbia, MO
Post-Doctoral Fellow/Research Associate (1988 – 1992)
Dalton Research Center
University of Missouri, Columbia, MO
Assistant Professor (1985 – 1986)
Department of Biochemistry
JSS Medical School
Mysore, India
Doctor of Philosophy, Biochemistry (1977 – 1979)
Karnatak University
Dharwar, India
Bachelor of Science, Chemistry (1973 – 1977)
Karnatak University
Dharwar, India
Publications
Grants
Principal Investigator
NIH R01 Endothelin Induced Cardiac Collagen Expression, July 1999 – June 2005
Principal Investigator
American Heart Association, Grant-In-Aid, National
Endothelins in Mineralocortoid Induced Vascular Remodeling, July 1996 – June 2000
Co-Investigator
NIH R01 Exercise, Diabetes, Smooth Muscle Caa++, April 1999 to March 2004
NIH R01 RFA
Th1 to Th2 Shifts of HSP-65 Responses and Atherosclerosis, October 2002 – September 2006