Jessica M. Ellis, Ph.D.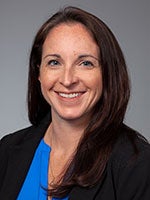 Research Interests
The Ellis Lab research program uses biochemical, metabolic flux, and genetically manipulated mouse model approaches to discover regulatory nodes in fatty acid channeling and to understand how altering fatty acid metabolism influences susceptibility to fatty acid-related cell stress, insulin sensitivity, neurodegeneration, and muscle function. We have two major research focuses in the lab:
Role of fatty acid oxidation in muscle function and health. We have revealed a critical role of fatty acid oxidation in cardiac remodeling, and in muscle biology and its influence on whole body metabolism, obesity, and insulin resistance. Using several novel mouse models we will continue to dissect these relationships and mechanisms. This work supported by NIH R01-DK125812 'Determining the Biological Effects of Mitochondrial Acyl Toxicity'.
Fatty acid metabolism in the central nervous system. We have recently discovered that acyl-CoA synthetase 6 (Acsl6) is a critical enzyme required for enriching the central nervous system with the protective omega-3 fatty acid, docosahexaenoic acid (DHA, a main constitute in fish oil supplements). Loss of Acsl6 and ensuing neuronal DHA deficit results in neuroinflammation, motor deficits, and early aging demonstrating an important role for fatty acid metabolism in central nervous system health and whole-body physiology.
Our team of undergraduate, graduate, and postdoctoral researchers are paving the path as the next generation of scientists. Consider joining us!
Education/Employment
2018-Present: Assistant Professor, Department of Physiology, East Carolina University
2014-2018: Assistant Professor, Department of Nutrition, Purdue University
2011-2014: Post-doctoral fellow, Department of Biological Chemistry, Johns Hopkins University
2005-2011: Ph.D. degree and Post-doc, Nutritional Biochemistry, The University of North Carolina
2003-2005: Post-bac Research Fellow, GDDB-NIDDK, National Institutes of Health
1999-2003: B.S. degree, Science of Nutrition, Fitness, and Health, Virginia Tech
Select Publications
Pereyra AS, Lin CT, Sanchez DM, Laskin J, Spangenburg EE, Neufer PD, Fisher-Wellman K, Ellis JM*. Skeletal muscle undergoes fiber type metabolic switch without myosin heavy chain switch in response to defective fatty acid oxidation. Mol Metab 2022 Feb 9;101456
Fernandez RF, Pereyra AS, Diaz V, Wilson ES, Jackson SN, Litwa KA, Brenna JT, Hermann BP, Eells JB, Ellis JM. Acyl-CoA synthetase 6 is required for brain docosahexaenoic acid retention and neuroprotection during aging. JCI Insights. 2021 Jun 8;6(11):144351. PMID: 34100386
Pereyra AP, Harris KL, Soepriatna AH, Waterbury QA, Barathi SS, Zhang Y, Fisher-Wellman KH, Goergen CJ, Goetzman ES, Ellis JM. Octanoate is differentially metabolized in liver and muscle and fails to rescue cardiomyopathy in CPT2 deficiency. J Lipid Res. 2021 Mar 20;62:100069. PMID: 33757734
Pereyra AP, Rajan A, Ferreira CR, Ellis JM. Loss of muscle carnitine palmitoyltransferase 2 prevents diet-induced obesity and insulin resistance despite long-chain acylcarnitine accumulation. Cell Rep. 2020 Nov 10;33(6):108374. PMID: 33176143
Fernandez RF, Ellis JM. Acyl-CoA Synthetases as regulators of cellular phospholipid lipidome diversity in brain. Prostaglandins Leukot Essent Fatty Acids. 2020 Oct;161:102175. PMID: 33001993.
Fernandez RF, Kim SQ, Zhao Y, Foguth RM, Weera MM, Counihan JL, Nomura DM, Chester JM, Cannon JR, Ellis JM. Acyl-CoA Synthetase 6 enriches the neuroprotective omega-3 fatty acid DHA in the brain.  Proc Natl Acad Sci, 2018;115:12525-12530. PMID: 30401738
Pereyra AP, Hasek LY, Harris KL, Berman AG, Damen FW, Goergen CJ, and Ellis JM. Loss of cardiac carnitine palmitoyltransferase 2 results in rapamycin-resistant, acetylation-independent hypertrophy.  J. Biol Chem. 2017 Nov 10;292 (45):18443-18456. PMID: 28916721